Entertainment, News
Upcoming Movie "HEX" Centers Around a Cursed Skydiving Maneuver
The trailer doesn't give us much to hope for, but hey, at least they're trying something new!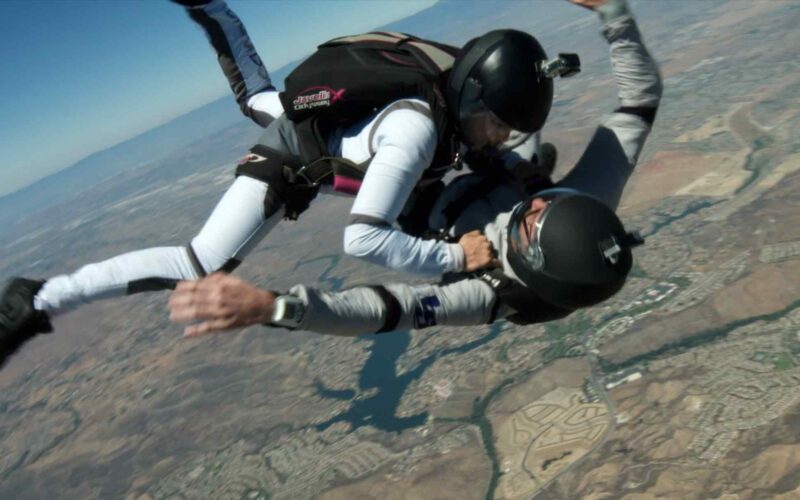 September 5, 2022
Owen Clarke
It seems skydivers are always trying to break records by upping the ante, whether it's a 103-year-old woman hoping to become the oldest skydiver ever or flyers adding members to their jump aiming to net a "most people in such and such formation" record.
So in a sense, HEX, a new indie film releasing with Lionsgate, isn't all that far-fetched.
The general premise is that a group of skydivers curse themselves by attempting a six-person "hex" maneuver, where five flyers jump in a circular vertical formation, with a sixth flyer in the center, and then invert themselves mid-flight.
From the trailer, we're already given a taste of the plot we can expect. The skydivers perform the "hex" and the dude in the center vanishes, thanks to some iMovie-tier special effects. After that, it seems like the various accidents begin killing off the rest of the skydivers. (And hey, with over 150 named bodyflight positions, it makes sense that at least one skydiving maneuver would evoke a lethal curse, right?)
The skydiving element is probably what's going to set the film apart, and it's worth noting that this element seems legit. "Hex was born when a group of industry professionals decided to bring the excitement of modern skydiving into a gripping narrative story," according to the film's Indiegogo page. The production crew has a combined total of over 25,000 skydives between them. These are folks who know their stuff.
Unfortunately, that appears to be just about all HEX has going for it. Judging by the trailer, the acting is stilted, the cinematography is choppy, and the special effects are on par with what you'd find in a high school video production class. In all honesty, I'm not sure which would be worse… Attempting the "hex" formation or sitting through the cringe-worthy line delivery in this movie. Ironically, one of the skydivers in the trailer said it best: "A cursed skydive? Are you kidding me?"
But then again… skydiving is about trying something new. It's about pushing the envelope. HEX certainly seems to be attempting to do that, and I can't knock 'em for it. Hell, I'd rather see a wacky, original film like this than the 100th Marvel movie, wouldn't you? The trailer may not leave us with much to get psyched about, but I'm rooting for the HEX team here.
HEX releases on November 1, 2022. Readers can check out the film's trailer here.
Published: September 5, 2022 | Last Updated: September 5, 2022
Written by,
Owen Clarke
Owen Clarke
is an American action sports and adventure travel journalist. In addition to serving as an executive editor at Indoor Skydiving Source, he is an editor-at-large for
Climbing
magazine and lead writer for the adventure guiding outfitter
Benegas Brothers Productions
. He also writes for Backpacker, Outside, SKI, and Trail Runner, among other publications.
Don't miss an update!
Join our mailing list for the latest indoor skydiving updates delivered directly to your inbox.
Want to Fly?
Find a Dropzone Near You: