News
33 Skydivers Break Record for Washington's Largest Vertical Formation
Flyers from across the western United States, and even Mexico, came together to break the state record on July 31. Now, the group hopes to go for the world record.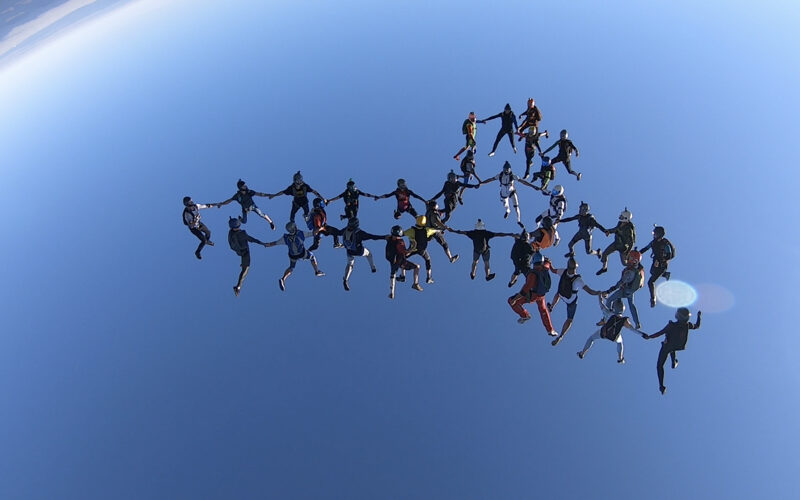 August 9, 2022
Owen Clarke
Last week 38 skydivers from across North America traveled to the Shelton, Washington dropzone Skydive Kapowsin, attempting to break the Washington state record for the largest vertical formation.
Previously set in 2016 with a 29-person formation, last week's group, organized by local flyer Sriraj Rajaram, upped the ante by completing a 33-person vertical formation jump. (Although 38 skydivers attended, aircraft issues limited the number of skydivers that could jump.)
"You're basically balancing yourself on the head," Rajaram told NWNews.com of flying in a vertical formation, which requires skydivers to dive head-first, holding hands. "Imagine people falling from the sky in an arrow-like shape, with their heads pointed towards the ground."
"When we exit, we have about a minute's worth of working time," he continued. "All 33 skydivers will exit the aircraft at 15,000 feet, and try to form the formation before we reach 6,000 feet. At 6,000 feet we basically separate the skydivers away from the formation in two groups, so that there's enough horizontal and vertical distance between everyone so they can deploy their parachutes safely."
The crew, which included skydivers from across the Pacific Northwest, as well as California, Arizona, Utah, Texas, and even Mexico, took four tries to grab the record on Saturday, July 30, before finally succeeding during their first jump the following day. The record was certified by a United States Parachute Association (USPA) official. "We had wheels up at 8:15," Rajaram said. "And it was a one-and-done. We got it on our first attempt on Sunday morning, and we set the record by 9 a.m."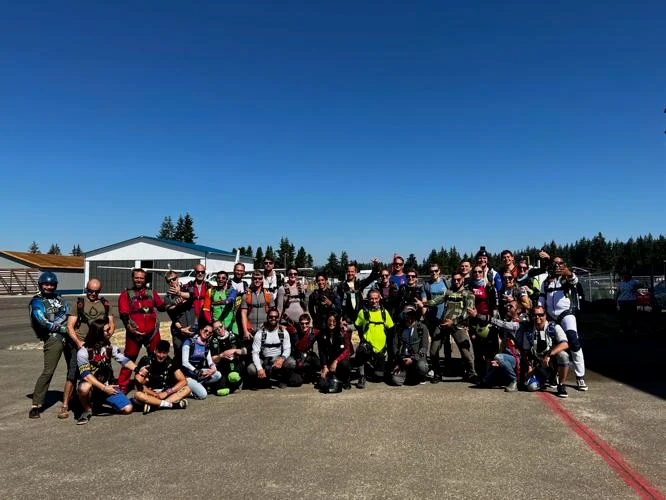 Above all else, Rajaram credited indoor skydiving at the nearby iFLY Seattle wind tunnel with providing many of the flyers with the ability to train vertical formation skills in a safe, controlled environment, without the financial cost or time sink associated with repeat jumps from a plane. He also believes the sport is on the come-up in the region, noting that skydiving in the Pacific Northwest "has taken off quite a bit."
"Traditionally, the major centers for skydiving are places with year-round good weather, like California, Arizona, or Florida," he said. "But Washington and Oregon—even if we don't have great weather, we have a lot of good talent that's coming to the region."
Rajaram and the other flyers from the state record group now have their sights set on a far bigger prize—the world's largest vertical formation. The standing record was set in 2015 with a whopping 164 flyers.
From August 22 to 26, Rajaram and others will travel to the renowned Skydive Chicago dropzone in Illinois to be a part of an upcoming record-breaking attempt with the dropzone's local outfit, Vertical Elite. This effort hopes to break the 164-person record by adding nearly 40 flyers to the formation, with a total vertical formation of 200 individuals.
Readers can stay updated on the record-breaking attempt by visiting Skydive Chicago's website.
Published: August 9, 2022 | Last Updated: August 9, 2022
Written by,
Owen Clarke
Owen Clarke
is an American action sports and adventure travel journalist. In addition to serving as an executive editor at Indoor Skydiving Source, he is an editor-at-large for
Climbing
magazine and lead writer for the adventure guiding outfitter
Benegas Brothers Productions
. He also writes for Backpacker, Outside, SKI, and Trail Runner, among other publications.
Don't miss an update!
Join our mailing list for the latest indoor skydiving updates delivered directly to your inbox.
Want to Fly?
Find a Dropzone Near You: