British Skydiving Team Prepares for World Championships in October
---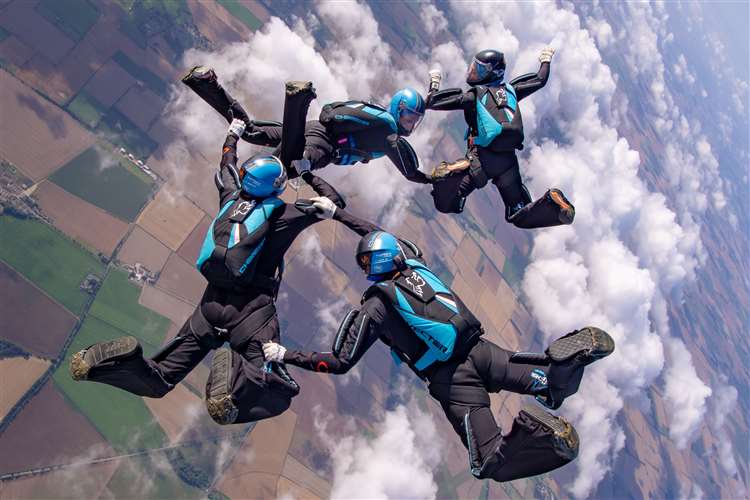 "Team Chimera," based out of Langar Airfield southeast of Nottingham, is the United Kingdom's top "open" team.
Britain's top 4-way open skydiving team is preparing for action in the 2022 Parachuting World Championships come fall.
The competition, which is held every two years, will take place in Eloy, Arizona, lasting from October 9 to October 26. It will house several sub-events, including the FAI World Canopy Formation Championships, World Canopy Piloting Championships, World Canopy Piloting Freestyle Championships, and World Wingsuit Flying Championships, as well as championships for formation skydiving, artistic events, and speed skydiving.
Team Chimera is made up of Laura Hampton, Sarah Ashworth, James Woods, and Will Cooke, in addition to Pete Harries, their cameraman, who flies above them to take photos during their comps. Hampton flies outside centre and Woods is the inside centre, while Ashworth and Cooke fly point and tail, respectively.
Each member of the team has been flying for somewhere between 14 and 20 years, and the squad is based out of Skydive Langar at the Langar Airfield, near Nottingham.
Chimera, which trains both indoors and outdoors equally (indoor from November to April, outdoor from May to October), spent time in the latter half of January training in Madrid's wind tunnels with veteran flier Dennis Praete.
"The reason for traveling to Spain for this is twofold," Hampton told Grantham Journal. "Firstly, we struggle to access wind tunnels here in the UK due to a lack of availability. Secondly, there are no world-class coaches based here in the UK."
When training indoors, "we're training discipline and technique," Hampton said. "For the outdoor period, our focus moves to the sky and training the speed, with the addition of new considerations which are only relevant in the sky, such as how we exit the aircraft."
Following their training in Madrid, they went on to win gold in the UK Skydiving League, and are now preparing to represent their nation in the World Championships. The team will also visit their coach, Niklas Hemlin, at the championships, as he is based out of Arizona, with Arizona Airspeed. They've trained regularly at the Eloy dropzone in the past, but the coronavirus has made international travel and training hard, as of late.
Chimera, which formed in 2016, has already won multiple titles, including several podium finishes at the British Skydiving Championships, but haven't had a shot at the World Championships, as Britain did not send a team to the previous competition. "No matter what happens, we're just so glad and grateful to be able to do what we love, if we can also bring home a gold medal, that'll be even better," Hampton said.
Speaking to the unique nature of shooting a 4-way jump, cameraman Harries told sports blogger Kassia Skorzewska, "When we learn to skydive with other people one of the skills is being able to control your fall rate by changing your surface area. The rest of the team is constantly doing this as well to stay with each other. I'm matching their speed just about 12 feet above them, being careful not to fly into their burble; the area of dead air above them."
While the team loves training indoors, wind tunnel flying simply can't compare, at least in Hampton's eyes. "Outdoor skydiving is such an incredible experience!" she said. "We love the whole thing, from the flight up to altitude to the camaraderie with all the skydivers just before exit to the whole thrill of freefall and the canopy ride. We love being in the drop zone and it's the best way to skydive."
---
Last Updated: