Essential Information
How Much Does Skydiving Cost?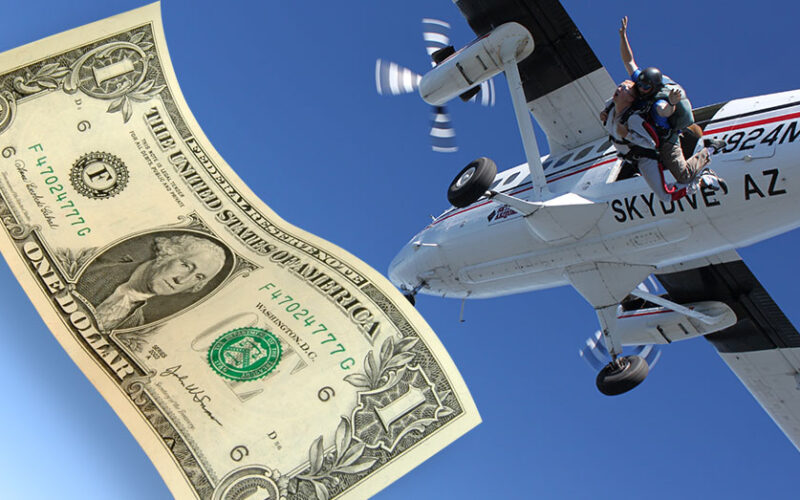 October 25, 2017
Vince
Below we break down the common costs associated with making a skydive. We've broken the article up into 3 main sections by jump type:
Tandem Skydiving – In this section, we cover the costs associated with making a first-time skydive.
Student Training – In this section, we cover the costs associated with various skydiving training programs and the overall costs associated with gaining your skydiving A-License.
Experienced Jumpers – In this section, we cover the ongoing costs of making solo skydives as well as the costs associated with purchasing your own skydiving gear.
Tandem Skydiving (First-Jump)
A tandem skydive is the most common method of making a first-time jump. As a participant, you'll be attached to a rated, experienced tandem master. As a pair, you will make a skydive including freefall, canopy, and landing.
If you'd like to learn more making a tandem jump, we have articles that cover the experience and cover tandem skydiving in detail.
Typical Costs
The price of a basic tandem skydive runs between $99-$250. The price variation is influenced by the skydiving location, jump altitude, and day of the week.
The price of a fully loaded tandem runs between $209-$450. This includes a tandem jump, video, photos and a tip for your instructor.
What's Included
Everything you need to make a tandem is included in the price. Upon arrival, you'll sign a waiver and watch a training video before getting geared up. The skydiving facility will provide all the gear you need including a student harness and goggles.
Is a lower priced skydive still safe?
It is worth mentioning that a lower priced skydive will not impact the safety of the jump. You shouldn't hesitate to purchase a discounted tandem if one is available.
All United States Parachute Association (USPA) member dropzones follow strict safety and training procedures. These rules and regulations are set and enforced by the USPA, FAA, and cooperating dropzone. Their rated, experienced tandem instructors are there to keep you (and themselves!) safe.
You can check that a skydiving facility is a USPA member (or a foreign equivalent) on each dropzone profile page here on Skydiving Source. You can also find user reviews from previous jumpers to help guide your decision-making process.
Add-ons & Options
Jump Altitude
Depending on the location you jump at, you may have the option to purchase higher or lower jump altitudes. Lower altitude jumps come with a lower price tag in exchange for less time in freefall. Check out our experience article for a chart showing how long your skydive will last from various altitudes.
Because of regulated parachute opening altitudes, the amount of time under canopy will be similar regardless of your jump altitude.
Photos & Videos
If there is one regret among first-time skydivers, it's not choosing to record your experience. At every dropzone offering tandems, you'll find an option for videos and photos of your jump. While this is optional, we highly recommend purchasing photos and videos of your experience.
You'll be able to get either photos or videos of your jump or a combination package of both. The only video or only photo options are usually slightly cheaper than a combination package. It's always worth it to spend slightly more on the combination package.
There are two methods of recording videos + stills available, each with their own advantages and disadvantages. Availability of each will vary from dropzone to dropzone, and it is often available to purchase both types together:
Professional Camera Flyer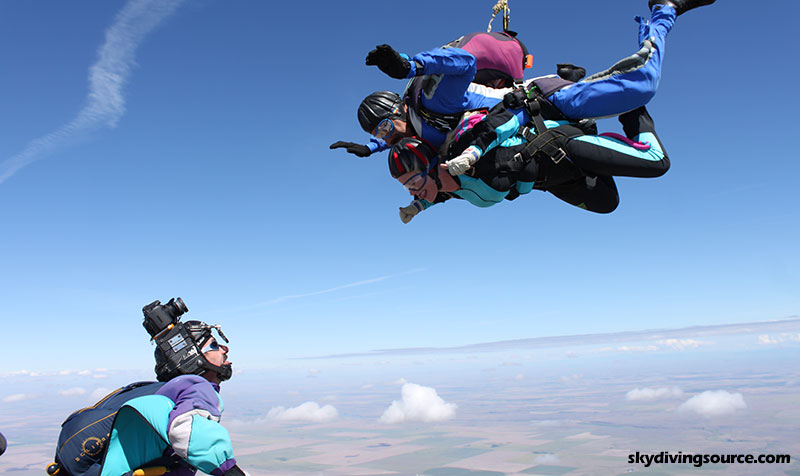 With this option, you'll be assigned a professional photographer and videographer who will jump with you. The camera flyer wears a full-resolution still camera and video camera on their helmet. They record the skydive experience from an outside perspective. This service runs between $100-$150 for a photo + video package.
This option has the following benefits:
Highest quality photos and videos.
Outside perspective of your skydive to better capture the skydiving experience.
Someone to interact with during your skydive!
Best way to capture the landing and reaction after your jump.
Handcam

With this option, your tandem master will wear one or two cameras on their hand. This allows for a close-up view of your skydive. The photo and video quality is usually lower than with a camera flyer. A handcam is usually slightly less expensive than a professional videographer. Prices range from $90-$110 for photos and videos.
This option has the following benefits:
Close up view of the experience.
Video and photos under canopy.
Tipping
Gratuity for your tandem instructor is not mandatory but commonly provided by students. Tandem instructors work hard to ensure you have a safe, fun, memorable experience. Tipping 10-20% of your total ($20-$40) is a great way of showing your appreciation.
Marriage Proposals
Some skydiving centers offer a special marriage proposal package. The staff at the dropzone will help you with the proposal of a lifetime upon landing. Prices and availability vary from location to location.
Discounts & Deals
When booking your tandem, look out for the following opportunities to save some money:
Weekday vs Weekend – Skydiving is a popular weekend activity. This means weekday jumps will often be slightly discounted. Often you'll be able to save $20-$30.
Group Discounts – You may save up to $20 per jumper if your group is large enough.
Military or Student Discounts – Use your military or student ID to save.
Deal Sites – Booking your tandem through a site like Groupon can save you a bit of cash upfront.
Compare Prices Here at Skydiving Source – We are constantly searching for the best deals at each skydiving facility. We present the best booking options for each dropzone. Use the database to find all the skydiving locations near you to shop and compare.
Student Training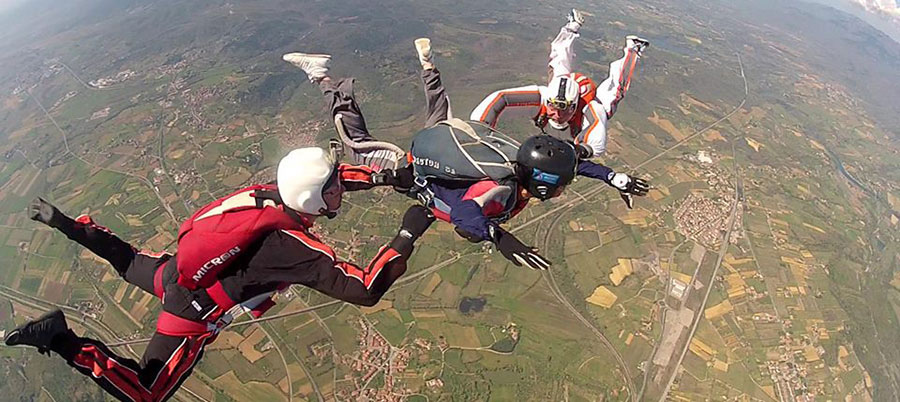 If you decide that you'd like to become a solo-skydiver, the first step is to take part in a skydiving training course. There are two main styles of training available: static line (SL) also known as Instructor Assisted Deployment (IAD) or accelerated freefall (AFF). Some dropzones may offer a slightly different take on these courses, but the end requirements to become a licensed skydiver remain the same.
You're required to complete the following to become an A-Licensed USPA skydiver (or foreign equivalent):
Completing 25 skydives (your tandem counts towards this total).
Passing a final jump test with an instructor.
Passing a written test.
Demonstrate the ability to pack a main parachute.
As part of these programs, you'll also need to take part in a packing class $20-$30 and become a USPA member (or foreign equivalent) for ~$55. Where we've outlined complete training packages below, these costs are baked into the total.
Accelerated Freefall (AFF)
This training begins with full altitude jumps where a student is assisted by two instructors. As the student demonstrates control in freefall, the number of instructors is reduced to one. After ~8 jumps, a student is cleared to jump without the immediate assistance of an instructor for the remaining jumps until becoming a licensed skydiver.
The cost for a first AFF jump runs $225-$300. A complete A-License package runs between $2000-$3500.
Static Line (SL or IAD)
This training method begins with a student exiting an aircraft with an immediate parachute deployment. This creates a focus on canopy skills in the early jumps. As jumps progress, the delay (freefall) off the aircraft slowly increases until the student is performing full delays into full terminal velocity freefall speeds.
The price for a first jump ranges between $170-$200. Complete A-License packages run between $1500-$2500.
Indoor Skydiving as a Training Tool
It is also important to note that time spent indoor skydiving translates over to your skydiving progression. You can speed along your progression nicely with as little as 10 minutes of tunnel time. Visit our sister site Indoor Skydiving Source to find a worldwide listing of indoor skydiving facilities and full supporting information.
Experienced Jumpers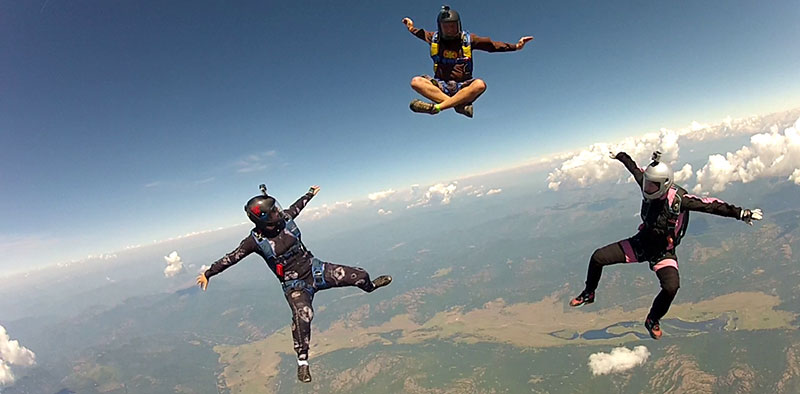 Buying Gear
After you complete your license, it will be time to buy your parachute setup – or 'rig'. Your parachute system will be one of the largest investments you make as a new jumper. Each system is comprised of:
A main parachute.
A reserve parachute.
A container.
An automatic opening device.
The price range for a complete parachute system will vary. As you progress through your first few hundred jumps, you'll progress to flying smaller, faster parachutes. This means you will need to buy and sell gear as you gain experience. Since new equipment is so expensive, used gear is a great place to start as a brand new jumper.
You'll be able to find a complete used system for as low as $2500-3000 dollars. Once you start shopping new, you can spend upwards of $10,000 for a shiny, new rig. If you're looking to purchase used gear, I recommend checking out this buy/sell group on Facebook.
You'll also end up buying at a minimum a jumpsuit, altimeter, helmet, and audible altimeter. Together these accessories can run anywhere from $500-$1500. Again, these items can be purchased used.
Jump Tickets & Ongoing Costs
Once you've made it through your A-License course and purchased your own gear, you're off to the races. You've made the initial investment, and now there are the following ongoing costs to consider:
A single jump ticket to full altitude runs $20-30 dollars per jump. A low altitude hop-and-pop jump ticket can be as little as $10-$15.
You must have your reserve parachute repacked once every 6 months at a cost of $60-70.
Ongoing costs for regular gear maintenance, new jumpsuits, or other accessories.
Travel costs – especially if you live somewhere without year-round access to jumping.
Conclusion
If you're an aspiring experienced skydiver, don't let all this information paralyze you. All these numbers can quickly add up while reading this article, but in reality, these investments are spread out over a long period of time. Start by focusing on your first jump and go from there!
If you're ready to make your first or next jump, you can find a dropzone near you right here on Skydiving Source. Also, don't hesitate to drop any questions in the comment section below.
Published: October 25, 2017 | Last Updated: July 28, 2022
Don't miss an update!
Join our mailing list for the latest indoor skydiving updates delivered directly to your inbox.
Want to Fly?
Find a Dropzone Near You: