Essential Information
Double Amputee Skydiver Prepares for His First Paralympics
Tyler Turner lost his right leg and part of his left leg after a skydiving accident in 2017. This year, he'll compete in his first Paralympics as a snowboarder.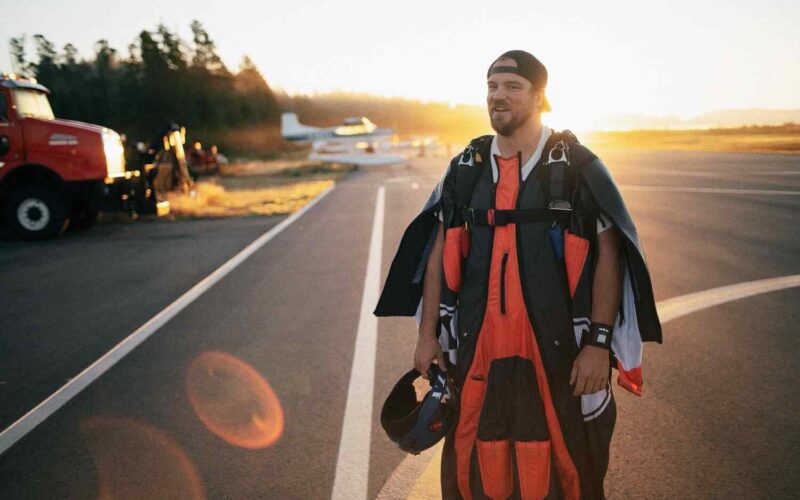 February 21, 2022
Owen Clarke
Five years ago, 32-year-old Canadian Tyler Turner was in the hospital, after what his website calls "a freak crash during an otherwise routine landing."
"I had a bad landing," Turner told Revelstoke Review. "Nobody really saw it, and I don't remember what happened." His pelvic and spine were fixated, and he spent over four days in a coma, then years after on painkillers, dealing with depression and addiction.
He first lost his right leg, then later, his left leg, as a result of injuries sustained during the crash.
The loss was especially hard for Turner, because he was no couch potato. He was someone who really used those legs. Before the accident, he'd been an avid outdoor adventure athlete, backcountry snowboarding, rock climbing, surfing, and skydiving, among other endeavors.
Today, he's made a remarkable recovery, and still skydives regularly, making multiple jumps every day as a skydiving instructor. By his own admission, he has returned to practicing all the adventure sports he did before, and in particular has become a highly-skilled para snowboarder, competing at the highest level.
Ironically enough, it was only after losing his left leg that he was even able to snowboard. Immediately after his crash, with only his right leg amputated, movement was extremely painful. "I could walk a little bit, but barely," Turner told Canadian news station CHEK last year. "The swelling after trying to walk was incredible."
"When I was told that I was going to have my second leg amputated I was very excited," he said, viewing it as a chance to begin a completely new journey. "You can't put your energy into pushing forward until you accept where you're at," he added.
Surprisingly, Turner noted that transitioning to para snowboarding wasn't as hard as he imagined it would be. He wears prosthetics to snowboard and relearned how to ride with adapted boards, boots, and bindings, but the majority of his learning curve was simply about learning how to live life as a double amputee.
"It was just a matter of managing the pain and skin problems," he told the Campbell River Mirror. "Once I was able to learn how to be an active amputee and manage the adversity that comes with that… the snowboarding part I know what to do, I've done it my whole life. I just had to adapt it a little bit."
He became the first bilateral amputee to fly a wingsuit, is a skilled para surfer, won gold in the 2021 snowboard cross World Cup in Colere, Italy (his first event representing Canada), won several World Cups this season, and then took bronze in the dual banked slalom in the ​​World Para Snow Sports Championships last month.
Later in the event, Turner managed to win gold in the men's snowboard cross, becoming the World Champion in the discipline. His top performance across the season earned him the Para Snowboard Cross Crystal Globe, an award given to the highest points earner in the season.
Now, he's training for his first Paralympic Games (March 4 to March 13) in Beijing.
Shortly after his accident, he could never have imagined being where he is now, five years later. "I didn't think I was going to be able to snowboard," he said, "so I thought if I was going to be going to the Paralympics it would have to be in a wheelchair and wheelchair sports, which I really enjoyed and were really fun, but it wasn't snowboarding."
"It's a wild year," he said. "The entire experience is going to be so cool. I've never been to China, I've never been to the Paralympics, so it'll be a wild experience. I'm going to try to take it all in, enjoy it and not put too much pressure on myself.
Published: February 21, 2022 | Last Updated: July 28, 2022
Written by,
Owen Clarke
Owen Clarke
is an American action sports and adventure travel journalist. In addition to serving as an executive editor at Indoor Skydiving Source, he is an editor-at-large for
Climbing
magazine and lead writer for the adventure guiding outfitter
Benegas Brothers Productions
. He also writes for Backpacker, Outside, SKI, and Trail Runner, among other publications.
Don't miss an update!
Join our mailing list for the latest indoor skydiving updates delivered directly to your inbox.
Want to Fly?
Find a Dropzone Near You: