Essential Information
Glossary: Skydiving Terminology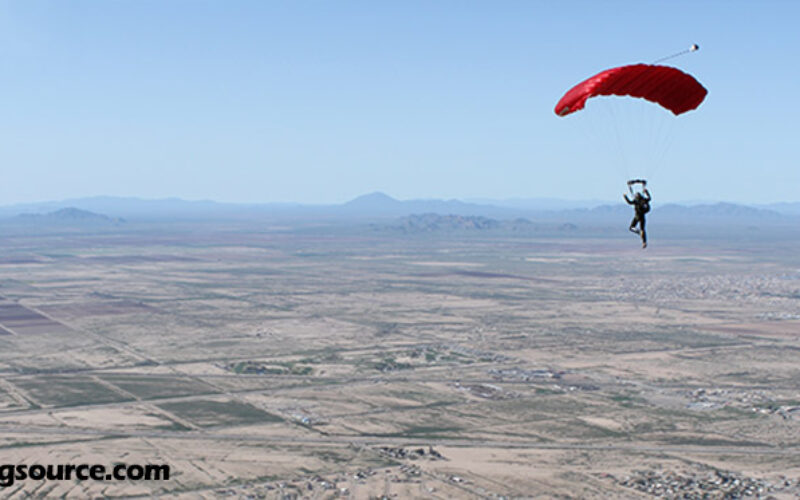 October 20, 2017
Vince
Rig
The skydivers term for a complete parachute system made of a container, main parachute, reserve parachute, and automatic opening device.
Container
The harness and fabric enclosure that holds a skydiver's parachutes.
Automatic Activation Device (AAD)
A device that can sense when a skydiver is still in freefall at low altitudes and automatically opens the reserve parachute.
Canopy
Another term for parachute.
Hop-n-Pop
The act of jumping from an airplane and opening your parachute immediately in order to focus on canopy flight.
Main Parachute
The first parachute that a skydiver opens. This parachute is usually a higher performance canopy and is packed by the skydiver or a trained parachute packer.
Reserve Parachute
The secondary, backup parachute that a skydiver uses in-case of an emergency.
Pack Job
The act of packing a parachute.
Three Ring System
The quick release system that is used to attach the main parachute to the container.
Cut Away
The act of pulling a cut away handle to release the main parachute in case of an emergency.
Rigger / Master Rigger
An FAA certified parachute handler that can perform reserve parachute pack jobs and parachute system repairs.
Call
The amount of time before a jump. For example: a '15 minute call'.
Load
A plane full of skydivers going up to make a jump. Usually the skydiving day is counted by loads.
Dropzone (DZ)
A location where skydiving takes place. Often a DZ is located on a small regional airport and features packing areas.
Wuffo
A non-skydiver.
Flare
The act of slowing the parachute down for landing.
Toggles
The handles on the ends of the brake lines of your parachute. Used for steering and flaring.
Published: October 20, 2017 | Last Updated: July 28, 2022
Don't miss an update!
Join our mailing list for the latest indoor skydiving updates delivered directly to your inbox.
Want to Fly?
Find a Dropzone Near You: