Entertainment
The Science of Flight Only Adds to Alexey Galda's Love for Wingsuiting
The 35-year-old theoretical physicist is one of the most renowned wingsuit flyers in the world, but it's the science behind the sport that keeps him interested.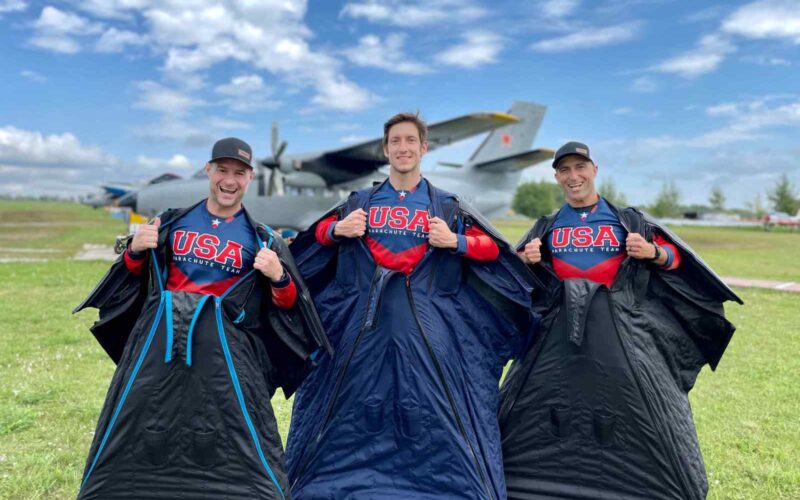 March 24, 2022
Owen Clarke
Chicago's Alexey Galda is one of the most talented wingsuit flyers in the world. He's been flying for over a decade and has served as a member of the U.S. National Wingsuit Team since 2016, competing in every single FAI World Cup and Championship since. 
Currently, he holds the title of U.S. Wingsuit Performance Champion, after winning gold in Wingsuit Performance at the 2021 U.S. Parachute Association National Championships last November, where he also set a record for longest wingsuit flight in a competition window: 101.9 seconds. He was also on the podium (bronze) during the 3rd FAI World Championship of Wingsuit Flying last year in Tanay, Russia, and took a gold medal collectively, as part of the USA Team.
In September of 2021, the 35-year-old broke the ​​world record for the fastest average horizontal speed in a wingsuit… rocketing through the sky at a whopping 209 miles per hour.
But he's not just any fast-flying adrenaline junkie.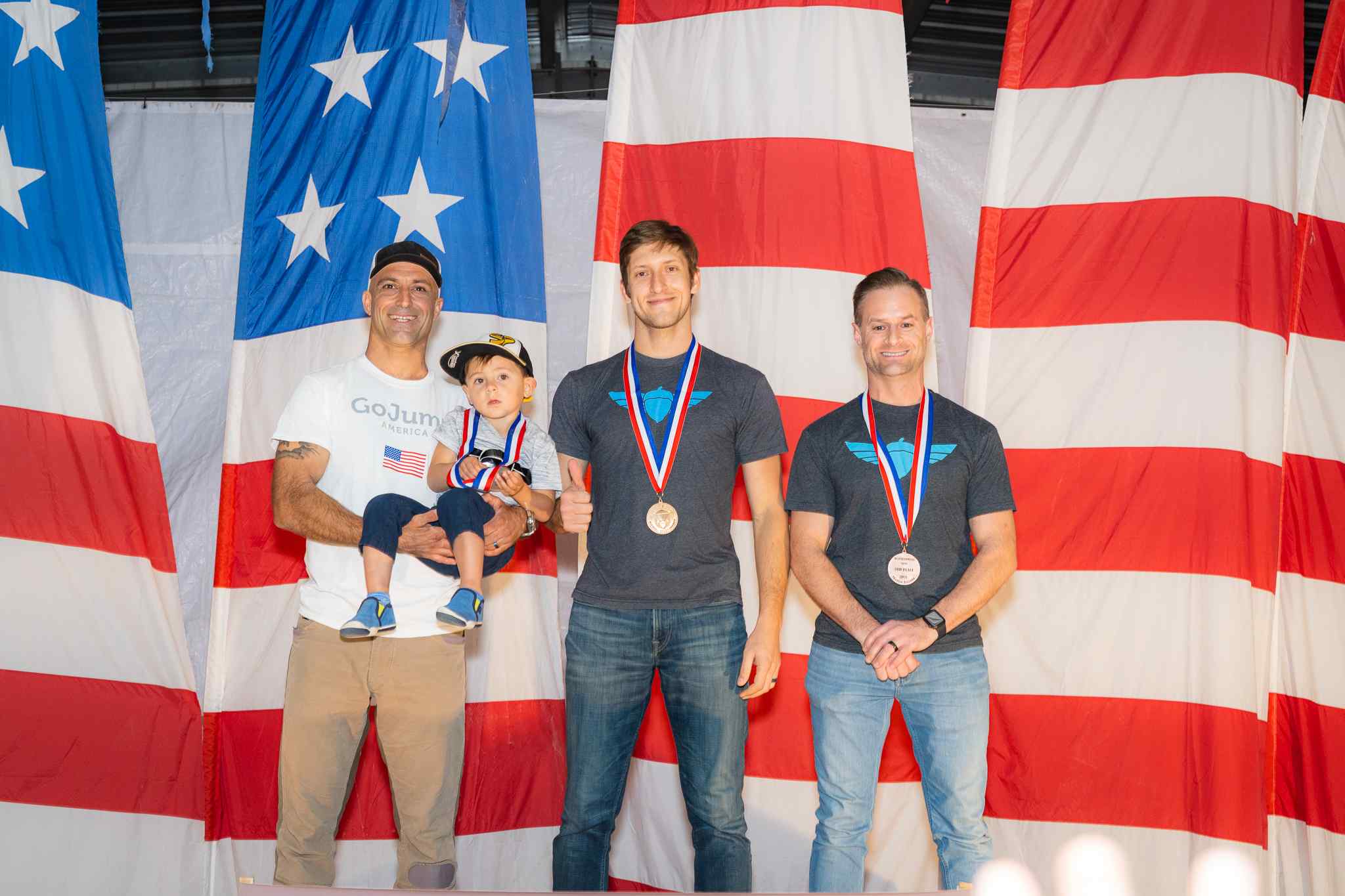 The Science of Flying
Galda is a theoretical physicist by trade, having earned his doctorate in theoretical physics from the University of Birmingham in England. He now works for Argonne National Laboratory in Chicago, in addition to a biotech startup, Menten AI. 
He's clear that his skydiving exploits always take a backseat role to his professional ambitions. "I don't really advertise [my skydiving] that much," he told the Chicago Sun-Times. "If people ask me, I am happy to chat and encourage people to do their first skydive. But it's not something I bring up. It's a separate life that I live. My main job is that I am a scientist and that's who I am. My second life is in the wingsuit."
When you visit his website, you see photos of a straight-laced, clean-cut chap in a collared shirt who defines his "main research interests" as quantum computing and algorithms, pulse-level quantum control, and protein design.
We have no idea what that stuff is, but it sure as hell doesn't have anything to do with skydiving.

Then again… Maybe it does?
"My background in optimization and data analysis helped me develop specific strategies to optimize my flying," Galda said. "It's very technical and data-heavy. Everything is recorded by a GPS device on the flyer's helmet."
Unlike most flyers, Galda, who trains at the Chicagoland Skydiving Center in Rochelle, Illinois, chooses to wear an open-face helmet with goggles, instead of the bulky full-face helmets many modern skydivers prefer. "It gives me more feedback on flying because you can feel the air with your face and hear it with your ears," he said. Like indoor flyer Leonid Volkov, Galda is just as attracted to the scientific side of the sport as he is to the adrenaline of flying.
Alone in the Sky
Born in Novokuznetsk, Russia, Alexey emigrated to the U.S. after earning his Ph.D. in England. He was originally a longtime paraglider and kitesurfer, before beginning skydiving around a decade ago. Almost immediately after slotting his 200 jumps (the minimum for wingsuiting), he transitioned to flying in squirrel suits exclusively. Galda began competing just a few years later. 
Unlike proximity flying (where flyers take their wingsuits close to the ground, hurtling over mountains and through narrow canyons), competition wingsuiting is neither glamorous nor spectator-friendly. It's not even financially profitable. There isn't the opportunity for creating flashy social media posts or YouTube videos, in the vein of BASE jumpers or proximity flyers.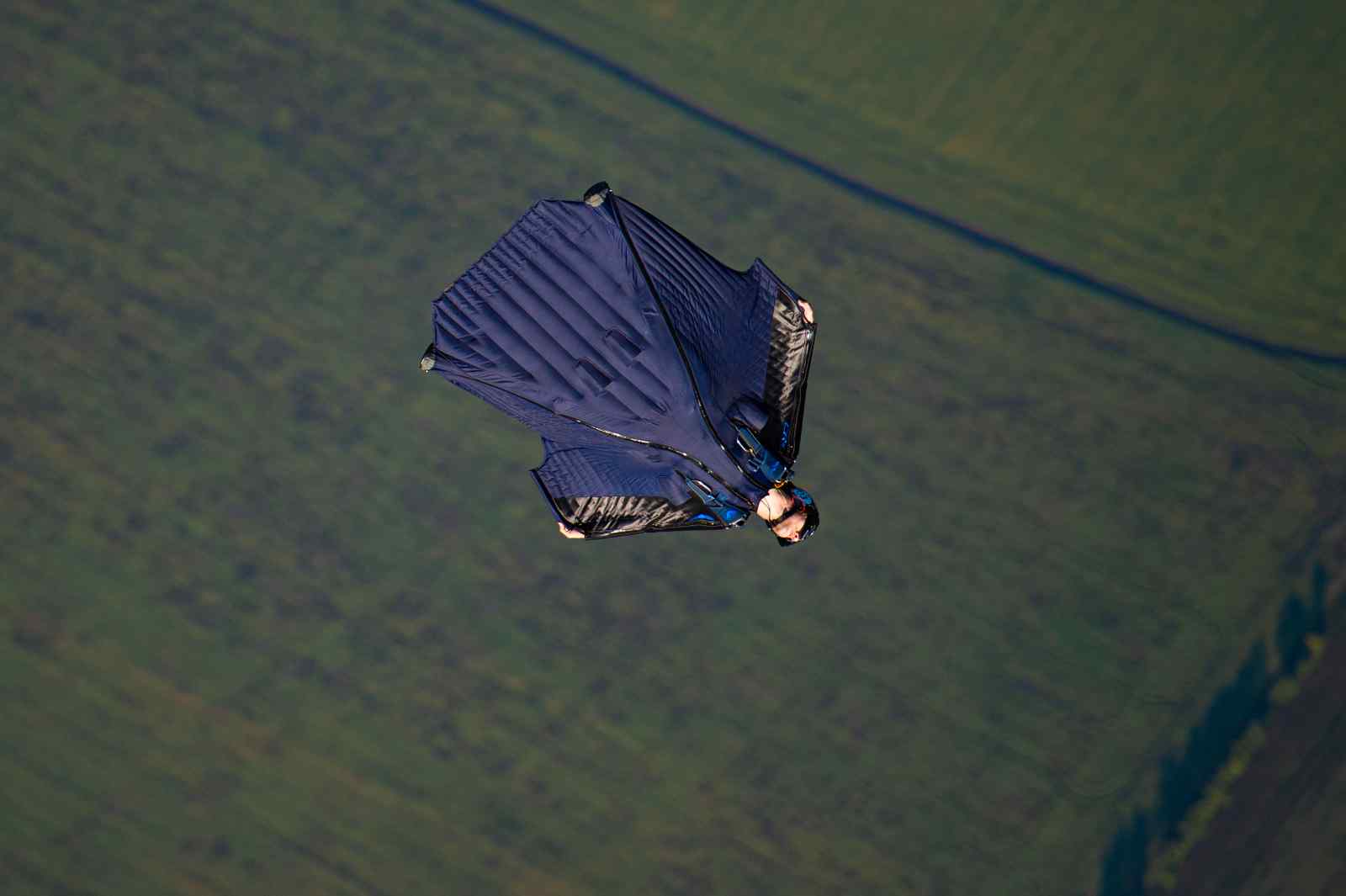 Aside from a few sponsors that help him with gear, Galda earns very little, both in terms of visibility and financial benefit, from his remarkable skills as a wingsuit flyer. His Instagram has a mere 806 followers, a far cry from skydiving stars like Kyra Poh, even though he's held both World Champion and National Champion titles.
"If you look up and squint really hard you could see a dot," Galda said. "It's just us, thousands of feet up, holding a certain body position for a couple [of] minutes." He measures success in flight not in fame or fortune, but in the same way a scientist would, in distance, speed, and time spent in the air, inside of a finite altitude window. 
In the same way, his thinking about the competitive side of flying is not hampered by nationality or team.
"It was not without some mixed feelings that I was going back 'home' to compete for the United States, the country that has become my home for the past decade," he wrote on Facebook following the 2021 FAI World Championships in Russia, where he earned bronze and gold medals. "But [it was more special] to achieve my dream of finishing on the podium of a World Championship in such a significant place for me." 
When it comes to competing as a wingsuit flyer, preparation is critical, Galda believes. It's trial and error, just like when performing experiments in a lab. By the time you're flying in a competition, you should be completely dialed in. 
"You build up muscle memory so when you perform a jump in a competition, you basically get in a zone," he said. "You don't really feel much other than trying to stay 100% focused, there's no scare or excitement until the jump is over."
At the end of the day, the act of flight is mathematical, and Alexey Galda has it down pat.
Published: March 24, 2022 | Last Updated: July 28, 2022
Written by,
Owen Clarke
Owen Clarke
is an American action sports and adventure travel journalist. In addition to serving as an executive editor at Indoor Skydiving Source, he is an editor-at-large for
Climbing
magazine and lead writer for the adventure guiding outfitter
Benegas Brothers Productions
. He also writes for Backpacker, Outside, SKI, and Trail Runner, among other publications.
Don't miss an update!
Join our mailing list for the latest indoor skydiving updates delivered directly to your inbox.
Want to Fly?
Find a Dropzone Near You: