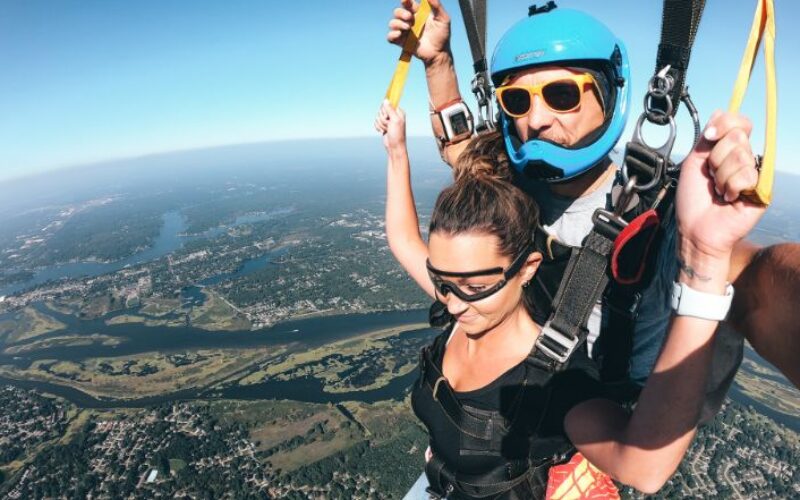 16448 Comstock St.
Grand Haven, Michigan 49417
USA
Grand Haven Memorial Airport
Monday 9:00 am-8:00 pm
Tuesday 9:00 am-8:00 pm
Wednesday 9:00 am-8:00 pm
Thursday 9:00 am-8:00 pm
Friday 9:00 am-8:00 pm
Saturday 9:00 am-8:00 pm
Sunday 9:00 am-8:00 pm
About
We call Grand Haven home for its beautiful lake views, welcoming airport, and amazing community. We are located only 1.5 miles from gorgeous Lake Michigan.
The climb to altitude takes you directly out over the water of Lake Michigan and up and down one of the most beautiful stretches of coastline on the planet! If you're lucky enough to get on one of the last loads of the day, the outline of the buildings on the Chicago skyline can often be seen in front of the orange sun setting on the water. It's this view that has made Skydive Grand Haven the most popular place in West Michigan and the Greater Grand Rapids area to make a tandem skydive.
Safety:
We operate at the Grand Haven Memorial Airport. Our fleet of aircraft consists of four Cessna 182's as our jump planes and a Cessna 172. We are proud members of the United States Parachute Association and have two USPA Safety and Training Advisors on staff. We follow all FAA Federal Aviation Regulations regarding skydiving and flying. We use Dual Hawk Strong Parachute Systems made by Strong Enterprises which are inspected and repacked by a FAA certified Senior Parachute Rigger every 180 days.
Training Available
AFF
Recognized Certification(s)
Beach jumps are available by appointment – USPA D License or equivalent thereof required
Aircraft
Contact Info
Phone:
16166621860
Website:
https://www.skydivegrandhaven.com
Email:
tony.gwinn@gmail.com
Standard Pricing
$245 per tandem jump, with group discounts, and a $20 discount for paying cash.
For those interested in solo jumping, the AFF training costs $1,812 for the nine jumps needed to qualify to self-supervise solo jumps.
The IAD program costs $1,985 for the 16 jumps needed to qualify to do the same.
Solo jumps once you are off student status are $25 if you have your own rig.
Rental gear is also available for an additional $30/jump.