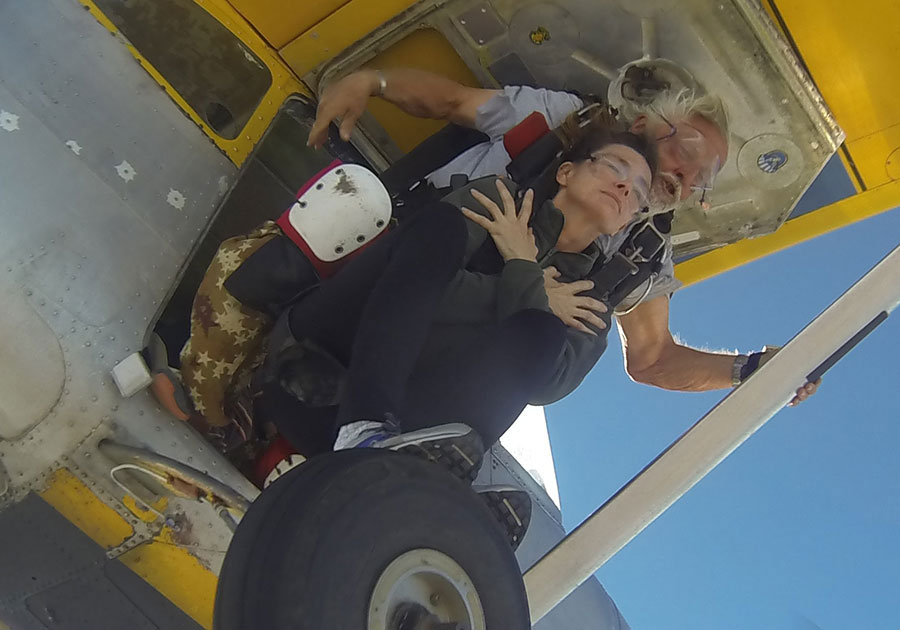 Enter your email to subscribe for skydiving industry updates:
83505 Melton Rd
Creswell, Oregon 97426
USA
Hobby Field Airport (77S)
About
Eugene Skydivers is a dropzone located in Creswell, Oregon. Enjoy the life changing thrill of freefall today. Learn more here.
Training Available
Tandem
Recognized Certification(s)
USPA
Participation Requirements: All jumpers must be at least 18 years of age.
Hours & Info
Thursday:
8:00 AM - 8:00 PM
Saturday:
8:00 AM - 8:00 PM
Phone:
(541) 895-3029
Website:
http://www.eugeneskydivers.com
Email:
info@eugeneskydivers.com
Standard Pricing
Tandem: $225
Tandem Video: $100
Aircraft
2x
Cessna 182
Rated an average of 2.3 out of 5 stars by 3 reviewers.
---
"

Horrible customer service!

"

by

Emily

on October 21, 2017

I will start with the positives. My sister and dad had an amazing time on the actual jump. The tandem instructors were very kind. Now for the negatives. The woman in the office (possibly the owner?) Is awful. My first experience with her was over the phone. I called to ask about getting my deposit back because we were told a group of 3 could jump together when putting our deposits down. Then when my step mom called about a week before to make sure everything was good to go they said only 2 could jump together and 1 would have to go by themselves. The whole purpose of this jump was to do it together with my dad and sister. I have already jumped at Skydiver Oregon (MUCH MUCH better drop zone!) So I wasn't looking for the experience necessarily but more the chance to jump with my family. So when I explained this to the woman she literally laughed and said, "I was just talking about this to my husband because it literally states that on our website" I was instantly turned off due to the fact that her tone was rude and she was laughing about the situation. I let her know that we were told we could jump together. I didn't even look at the website. I was just curious if I could get my deposit back. The woman said she would put it towards my dad's jump. I agreed to that and got off the phone. Then the day of the jump I went with my family to watch them. My dad let me know that his jump was already paid for as was my sister's so there was nothing to apply the deposit to. So I entered the office to again request the money back. I first told the woman I was not sure who I had spoken to over the phone, in which she said I had spoken to her. I said that in that case I wanted to first discuss the way I was treated because she was disrespectful and I didn't appreciate her laughing about my situation when I was already frustrated. She instantly got an attitude and said she laughed because it literally states the policy on the website and they constantly change the wording because no one understands it. I told her it was deceiving because my step mom was told we could all jump together. I said that my dad's jump was already paid for so I wanted to know what the money was going towards exactly. She, again, laughed and said (with complete attitude) that she would have talked to my dad but as I could see she had been busy. She said it would go toward gear. I said we don't want your gear we want our money back. She then told me that she would refund my deposit but that I needed to leave the office. So I did. Then I went outside back to my family. My grandma asked what happened and if I got my money back so I was telling my family what had happened. Then the woman came outside and walked up to our table. She said that since I yelled at her and was talking bad about a private company she was going to make me leave. I told her I never yelled at her. She said "you didn't yell but you were tapping your foot" I told her that is not the same thing at all. Then she said I called her a liar. I said I never called her a liar I said it was all deceiving. She then looked to my family and said that I attacked her. I was shocked and in disbelief. She said, "well I'm going to ask you to leave the property"  So I grabbed my things and left. She then continued to bad mouth me to my family until they put a stop to it. Not only was I unable to jump with my dad and sister, she also made it so I was also unable to even watch them jump. She finally calmed down a bit. My brother in law said her demeanor and tone changed completey when I left. He said he told her if she would have dealt with me in that nice tone the whole time this wouldn't have happened. She ended up refunding the deposit and giving it to my family to give to me. Needless to say neither my family or I was impressed by any of this. We will never return. My sister, dad and I have a jump planned with my grandpa at Skydive Oregon and will continue to go there from now. I refuse to go back to a place that could treat a whole family so horribly.
---
"

Horrible Customer Service

"

by

Lucie

on October 21, 2017

I was recently there with a bunch of family to watch my sister and my dad jump. It was unfortunately not a great experience for us. My other sister was supposed to be jumping but there was a misunderstanding so she went to talk to the front desk lady about getting her deposit refunded because she was told they could all 3 jump together when that was not the case.. After talking to the lady at the front, my sister then came outside to us. We asked her if she got her refund and she was telling us about her rude customer service experience. As she was telling us, the lady then came outside and over to us. She attacked my sister about the altercation inside and started telling lies about what happened. She would say something and then when my sister corrected her, she would retract and fix her statement. It seemed very odd and unprofessional. She then asked my sister and her children to leave the property since she was 'talking bad about her'. My sister said ok and left immediately. The lady then continued to bad mouth my sister to our entire family without her even present. It was extremely rude and unprofessional! We did end up getting her refund but the whole experience was shot because her and my nieces didn't even get to watch their family jump and it ruined it for the rest of us because we wanted them there and felt bad that they were missing out.
---
"

Going back

"

by

Lucifer

on October 21, 2017

Thinking about how much fun I had in 2011' with my first jump with Eugene Skydivers. Working on getting together with friends to do another jump. It's been a decade and I've only been once. It was a great experience and such a thrill. We went to dorena lake afterwards with some of the crew and we went out on a boat. Such a great crew of people.